Since the very beginning, Red Pitaya has connected with supporters of their standard – yet innovative and award-winning – development boards for a vast range of applications, resulting in over 30,000 clients worldwide, including universities and companies. And since progress never stops, the manufacturer could not fail its vanguard reputation when looking for an answer to the continuous demand for increased sophistication and state-of-the-art hardware. For this purpose, Red Pitaya joined forces with Instrumentation Technologies engineers in the design of a product, ready to satisfy more demanding user requirements for applications in the industrial, R&D, T&M, and DAQ fields. The result, the SIGNALlab 250-12™ board, offers increased performance, full software control, and more hardware options when compared to its predecessors in the Red Pitaya product range, as well as improved real-time processing capacities and faster analog performance, thanks to its larger FPGA. The board also comes equipped with a web app user interface, which can be accessed via Ethernet or Wi-Fi and is as such ready for use in an industrial environment.
In this industrial market segment, the all-rounder Red Pitaya boards have been generating high levels of overall customer satisfaction in concept prototyping and test automatization projects. Nevertheless, throughout the years, growing demand has been detected for more robust DAQ systems, with even higher performance levels, upgraded and customized to companies´ needs for integration in existing systems. To do so, Instrumentation Technologies has developed a flexible and effective three-step strategy:
STEP 1:
During the first step, a Red Pitaya device is made available to the customer for installation in his facility, in order to assess the operational specifics of the environment and the application. During this phase, the use of the Red Pitaya is studied, as well as the extent in which it responds to measuring and process requirements. At the end of the step, the objective is to obtain full understanding of the operation and concrete information regarding possible solutions.
STEP 2:
This is the phase where customer requirements are finetuned, based on analysis of the data, gathered in step 1. Specific needs are defined, and customized hard- and software solutions designed. This step is also used to boost the Red Pitaya unit´s performance in order to respond specifically to the problem at hand. If the information, collected during the first step, is complete enough, this second step can occasionally be skipped.
STEP 3:
Here, the conclusions of the previous steps are combined to develop and manufacture a tailormade DAQ device, 100% adapted to the customer´s specific needs: sampling rate, form factor, industrial protection level and compatibility with rugged environments, etc.
The final aim of this development is to evolve from all-terrain instruments, such as the STEMlab and SIGNALlab, to advanced industrial tools, finetuned to specific needs. This customization is based on DAQ Building Blocks, a further result of Red Pitaya engineers working hand-in-hand with their colleagues from Instrumentation Technologies, taking the Red Pitaya technology and performances to the next level.
The Building Block system was designed to supply customized solutions for demanding DAQ applications, using standardized components. This goes somewhat against the natural reflex when facing complex problems, which is to develop systems from scratch and adapt them exactly to the specific needs. This alternative approach avoids the traditional pitfalls of entirely-new-design projects: long and unpredictable R&D processes, impacting on the final budget; low reliability of newly designed systems; and, last but not least, possible problems with EMC certification, essential for equipment with wireless connectivity, operating in noisy electromagnetic environments and likely to cause or suffer from problems with RF interference. The modular Building Block DAQ system counts with a robust and verified design, resulting in a range of standard blocks, fully certified and ready to be assembled according to specific needs to provide a tailormade solution to any type of DAQ-related problem. The Basic Units consist of a series of individual, isolated inputs for the monitoring of a wide range of analog electric input signals. Sample rates can be provided and configured up to 1GS/s @ 12 or 16 bits. All Building Blocks come with full EMC certification and IP54 class protection for installation in rugged conditions, as well as a built-in UPS to avoid data loss in case of power failure.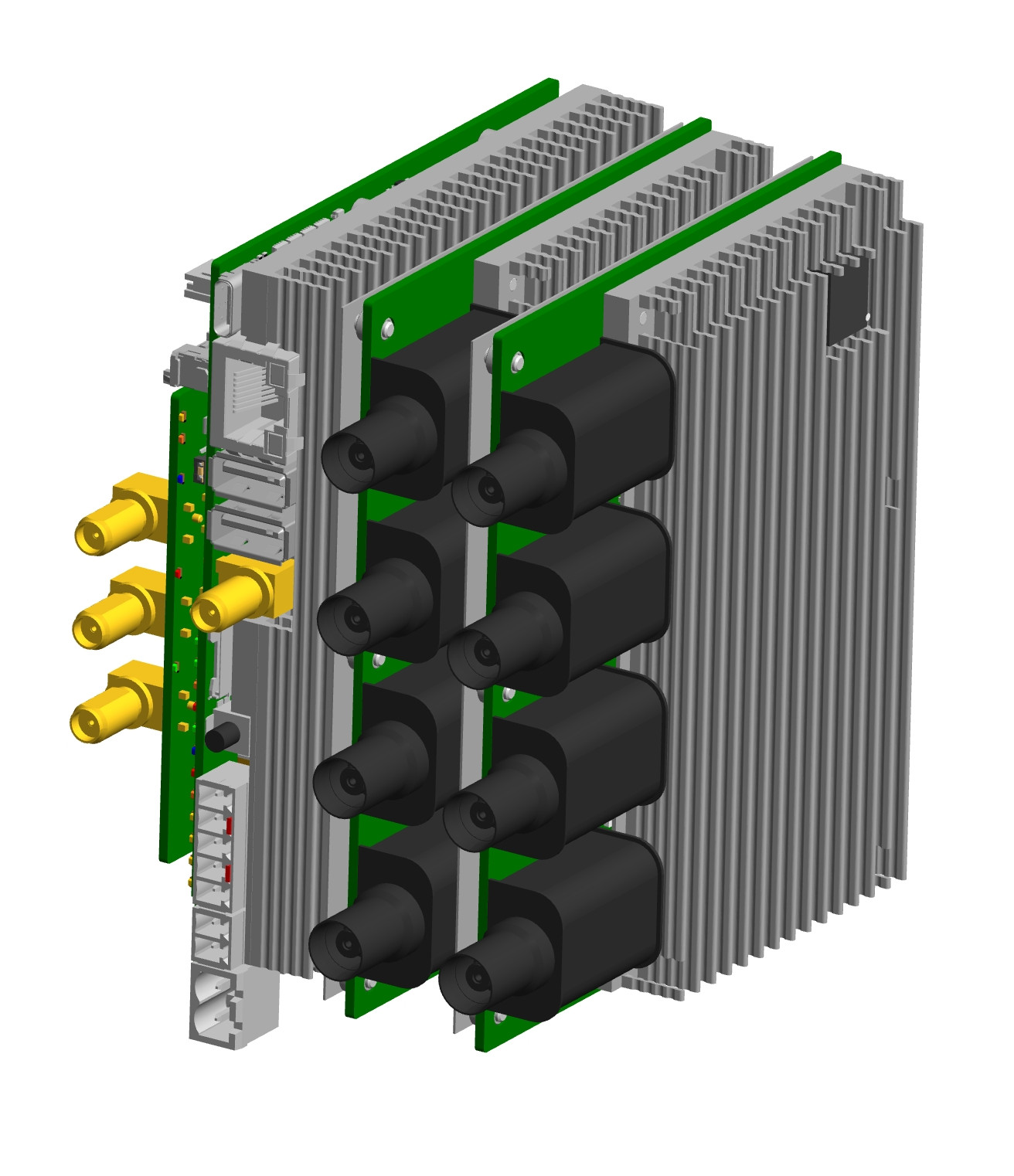 The additional functional customization of the Building Block system is provided by a configuration layer, which is added on top of the solid hardware basis. This can be done in a flexible manner, through the use of dedicated or adapted software. During this phase, all parameters – such as sample rates and triggering, post-processing, and FFT, as well as alarm signals – are set. This strategy provides customization with a shorter R&D phase, as well as less commissioning and debugging time, resulting in an overall lower price tag and faster delivery times, and fits like a glove with Red Pitaya´s three-steps approach.
Software is not only required for configuration of the system, but also for post-processing and analysis. After the data has been collected – or in real-time – the information is sent to a dedicated data center through one of the multiple interfaces, hardwired or wireless, where API-level software support or a GUI control, based on LabVIEW or other popular tools (e.g. Phyton, Matlab), are a guarantee for perfectly adapted data processing and analysis without major hiccups.
In general, the Building Blocks system is highly indicated for cutting-edge technical areas where fast and reliable DAQ is critical and the use of standardized commercial instruments is not recommended or incompatible with specific customer requirements. In one specific case, this became clearly visible in a project where a customer, after installing Red Pitaya STEMlab boards, found out the operational requirements were well beyond the system capacities. Close collaboration between customer and supplier resulted in a customized solution, in the shape of a ruggedized system with dynamic sampling rates between 100 MS/s and 1 GS/s.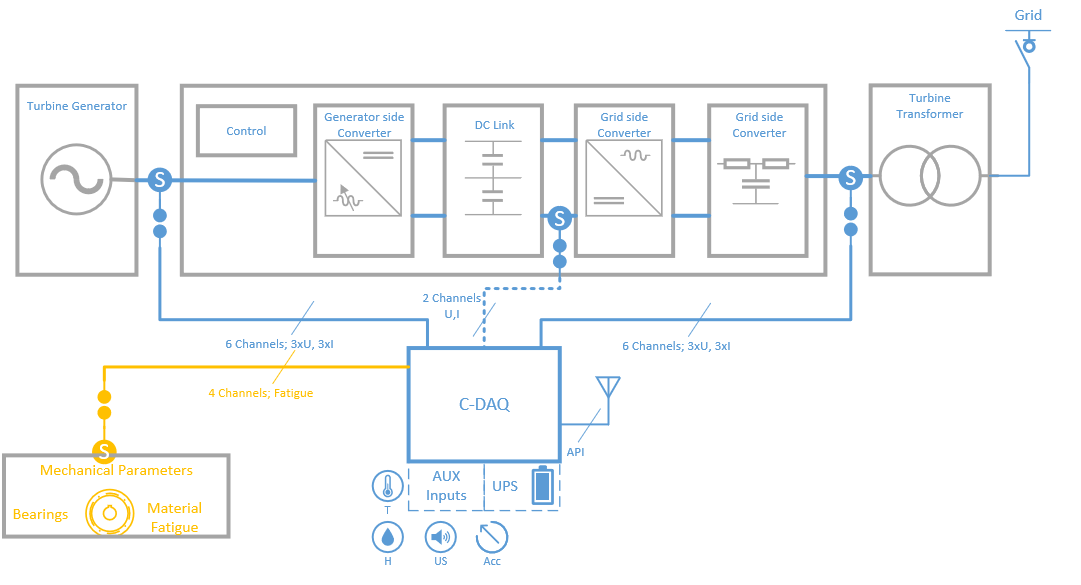 Another concrete example is that of a European Fortune 500 manufacturer of trains and railway infrastructure, looking for a solid, flexible, and ruggedized monitoring system to scan a large number of specific rail equipment and observe the fast transients. The analysis of incidents such as voltage spikes and higher-harmonic currents in this type of equipment is essential in the comprehension of their impact on electrically interconnected devices and in early failure detection as well as predictive maintenance.