The Libera Current meter is a general purpose current measuring device with 4 input channels, compatible with all current sources and capable of measurements from 60 nA to 2mA. The instrument features six different ranges which can be set manually or automatically, and each channel can be calibrated using a known current source.
HIGHLIGHTS
• 4 input channels with BNC triax connectors
• 6 current ranges from 60 nA to 2 mA
• 18-bit A/D conversion
• Easy calibration of each channel and range
• Compatible with blade monitors, diamond detectors, wire scanners and Faraday cups
• EPICS, Tango, Python, Matlab and LabVIEW compatible
APPLICATIONS
• Particle accelerators
• High energy physics
• Nuclear and particle physics
• Dark matter and astroparticle physics
Multi-rage current meter
Input currents are immediately converted into voltage via a trans-impedance amplifier, with six different gains depending on the current range selected via software. The signals are then digitized using 18-bit and 2.5 MSps A/D converters. Offsets and gain errors can be calibrated for each channel using a nominal current source.
Flexible data buffering
One LEMO trigger input is used to trigger data acquisition in a large ADC buffer with total size of 1 MS per channel. The data buffer size can be reduced in order to support higher acquisition trigger frequencies.
Intuitive graphical user interface
The instrument comes with an intuitive GUI that allows adjustment of all required settings such as current range, triggering and manual calibration of all four channels. The measured current is then shown and plotted in real time. The current is calculated automatically from measured ADC counts, and each channel can be calibrated separately.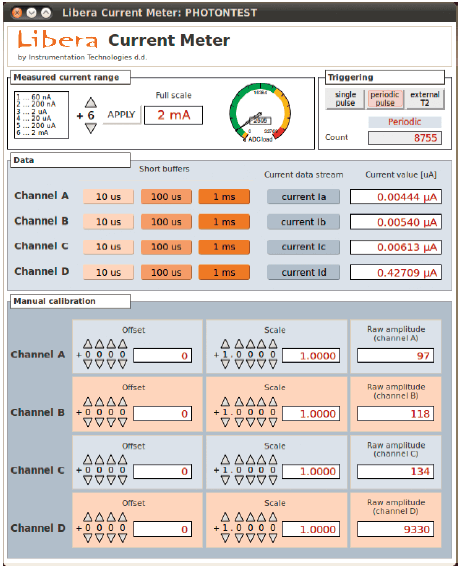 Low-power and no maintenance required
The Libera Current Meter is based on the Xilinx ZYNQ SoC family, with low power consumption which allows the devices to be powered via Ethernet (PoE standard) and passive cooled.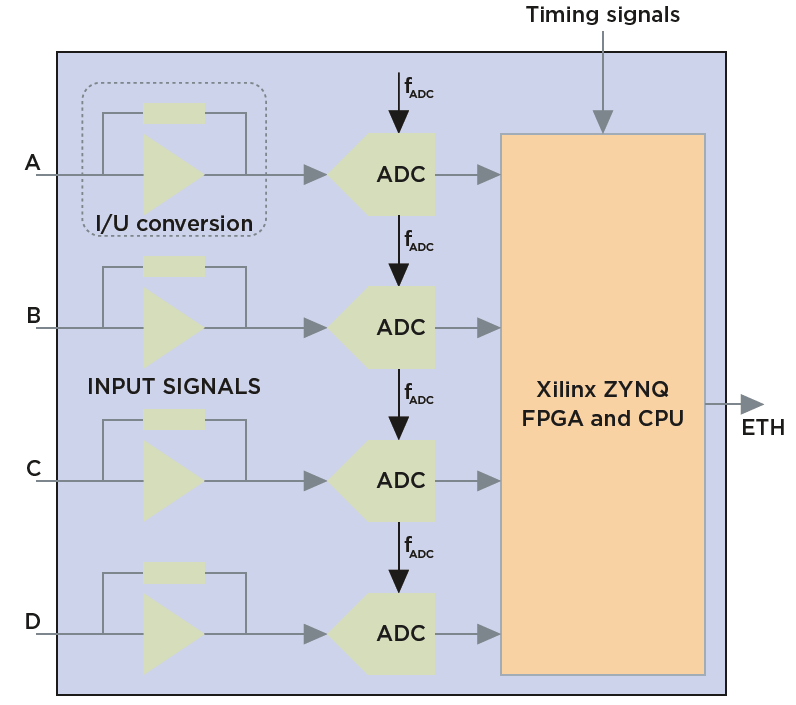 Technical specifications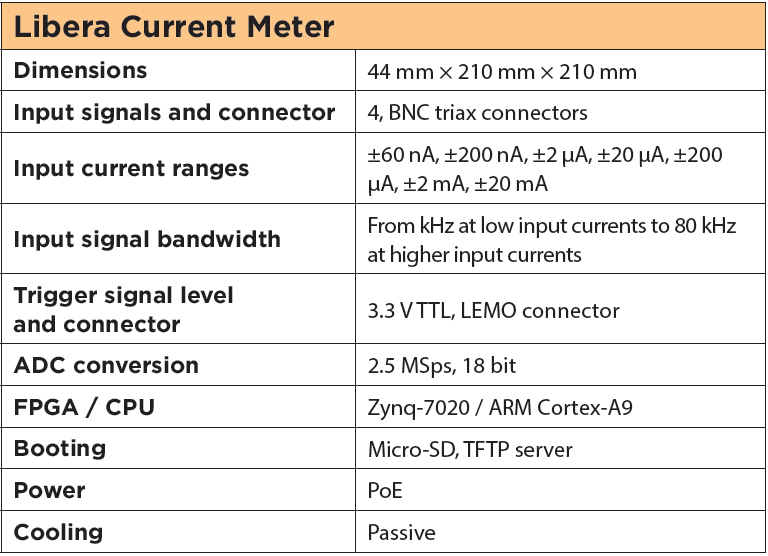 Network-connected with several software interfaces
The instrument is accessible via the internet, and several standard interfaces are available to facilitate the integration of the instrument into the control system.
In addition to the EPICS and Tango interfaces, the instrument can also be connected with a TCP-IP socket, enabling connections with Python, LabView, Matlab and others. The operating system is based on Linux and loaded using a Micro-SD card or via a TFTP server.
Nominal current ranges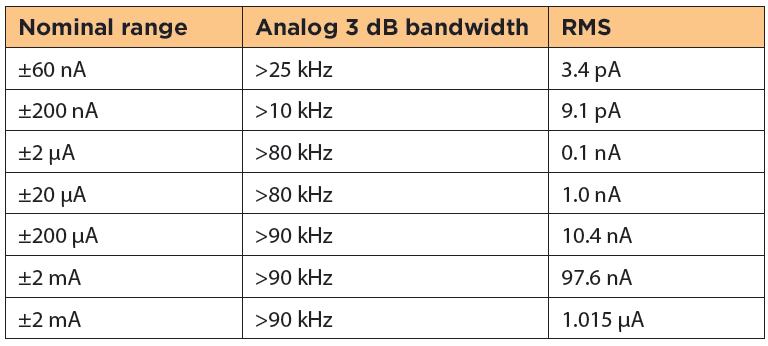 FPGA / Software code availability
The Libera Current Meter can be further extended by the user with modifications to the FPGA and software code (available under a non-disclosure agreement).
Additional features or functionalities can be also added by our developers.